Description
Features:
Color: White
Material: Plastic + ceramics
Rated voltage: 12V
Rated power: 50~72W
Get ice cold in minutes or heat to boiling by simply reversing the polarity, used for numerous applications from CPU coolers to alternate power sources, or even for your own custom car drink warmer/cooler.
These devices must be used in conjunction with a heat sink to avoid burned
One side is cooling (Printed model number)and another side is heating (Printed no word) when working.
Please radiating the heating side, avoid using under no-radiating condition over 2s\Coated with thermal grease when install the device
Cable length: 30cm
Dimensions: 1.57 in x 1.57 in x 0.12 in (4.0 cm x 4.0 cm x 0.3 cm)
Power ON the device only with proper Heat-sink setup to avoid any burning/damage or malfunction of the device!
Use a good quality heat sink (such as in CPU fans) with thermal paste and power the device.
Use a 12V Dc Power supply to power the TEC1-12706.
Use ONE AA battery for 10- 20 seconds to power ON the device to find the hot /cold side.
Warning!
Power ON the device only with proper Heat-sink setup to avoid burning/damage/malfunction of device!
Performance Specifications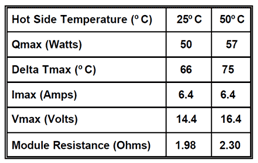 1. The hot surface Th of the TEC must be attached to a suitable FAN SINK (60x60x40+mm) that is capable of carrying away both the heat pumped by the TEC plus Joule heat from the electric power supplied to the TEC. A heat sink rise of 15C above ambient is typical for many TEC applications. Otherwise, a bigger heat sink must be used to reduce temperature.
2. Care should be taken when applying pressure during installation. Uniform pressure is desired across the mounting surfaces. If uneven pressure is applied, thermal performance may be reduced or damage may occur to the TEC.
3. Clean surface thoroughly, making sure there are no chips, dirt or any foreign substances that may affect bonding. Coat the contacting sides, Th and Tc, with thermally conductive grease or glue.